Meenakshi College of
Nursing
Meenakshi College of Nursing was established in the Year 2017. It is run by the SR Trust with an aim to provide quality nursing education and prepare nurses with the highest level of education and practice. The College is affiliated to the Tamil Nadu Dr. MGR Medical University, Chennai and is recognized by the Indian Nursing Council (INC) New Delhi, and the Tamil Nadu Nurses and Midwives Council, Chennai.
The College is situated at Kottakudi Campus in an area of 19 acres, an eco-friendly environment. College is equipped with excellent laboratory and classroom facilities. Our College is the only one in the State to have a full pledged Simulation Lab with high fidelity mannequins to enhance clinical learning.
The college has experienced, competent and dedicated faculty in various specialties with four Professors, two Associate Professors, and four Assistant Professors, who are the assets of this institution. Classroom teaching is made effective by the use of modern educational technology. The dedicated faculty members of the College of Nursing and Hospital are committed to develop nursing personnel through quality education.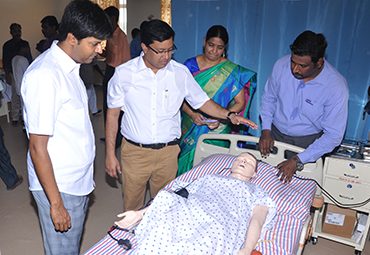 A modern laboratory was inaugurated in Meenakshi College of Nursing on 15th October 2018.